Cosmik Debris
cosmikdebris.com
                Holy Trinity Grade School Class of 1955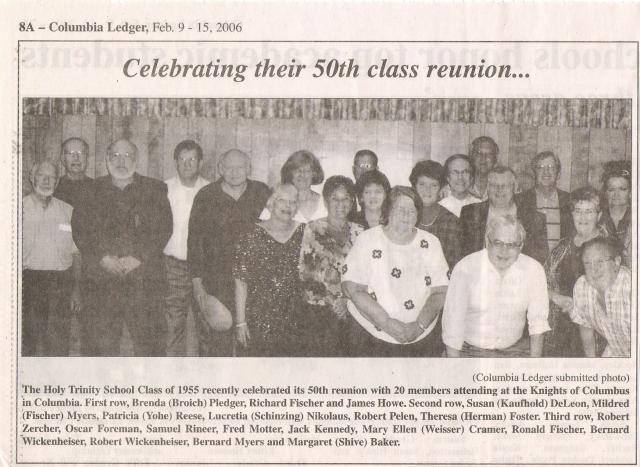 On Saturday, September 24, 2005, 20 members of the Holy Trinity Grade School of Columbia, PA met at the Knights of Columbus, 4th & Maple Streets in Columbia, celebrating 50 years since our graduation, for an evening of dinner and sharing our memories and memorabilia.

The overall class size was 36, with 3 (now 4) members deceased and 3 more lost to follow-up (see below).  Some of us had not seen each other since leaving grade school because, for one, we went to different high schools.

This page includes pictures of the past and of the Reunion, as well as some historical information.
2 Color pictures of the 50th Reunion of the H.T. Class of 1955 (ID's, as above)
       First Holy Communion at the Holy Trinity Roman Catholic Church in Columbia, PA (1949)
Front Row, L-R: Richard Fischer, Thomas Fry, Bernard Myers, James Resch, Bernard Wickenheiser, John Dinkel, Frederick Motter, Arthur Groft, Thomas Miller, George Mackey, Gregory Kaufhold.
Second Row, L-R: Samuel Rineer, Lawrence Schell, Joseph Willy,  (hidden), Ronald Fischer,  Robert Staab, Donald Keim, Donald Yentzer, John Zercher, James Howe, Robert Wickenheiser, Peter Zipp, John Kennedy III.
Third Row, L-R: (unidentified, possibly Robert Knapp),(hidden), (hidden), Robert Staab, (probably, unknown third-grader or, possibly, William Kasel), Michael Brown, William Flick, Stephen Reehl August Wise, (hidden, possibly Joseph Nicklaus).
Fourth Row, L-R: Mildred Fischer, Brenda Broich, Lucretia Schinzing, Margaret Shive, Judith Groft, Theresa Herman, Mary Ellen Weisser, Thelma Hamaker, Dorothy Golden, Susan Kaufhold, Janet Segro, Patricia Yohe, Gilda Segro, Mary Ann Resch.

Missing:  Ralph Brommer, Arthur Fasig, Robert Pelen, Robert Zercher .

6th Grade, with Sr. Maria Sponsa

Top Row (standing), L-R:  Susan M. Kaufhold, John J. Dinkel, Frederick W. Motter (Jr.), Peter E. Zipp (Jr.), James J. Resch, John J. Kennedy III, Oscar J. Foreman, and Theresa M. Herman.

Next Row (standing,), L-R:  Samuel G. Rineer (Jr.), Lawrence R. Schell, Arthur J. Fasig, Thelma J. Hamaker, Mary Ellen Weisser, Dorothy S. Golden, Patricia A. Yohe, Robert L. Wickenheiser, Bernard J. Wickenheiser, George P. Mackey, Robert J. Pelen, and Ralph J. Brommer.

Middle Front Row (sitting), L-R:  Margaret J. Shive, Mildred E. Fischer, Janet M. Segro, Lucretia C. Schinzing, Bernard S. Myers, Brenda J. Broich, Margaret Ann Dailey, and Mary Ann Resch.

Front Row (boys, kneeling), L-R:  Stephen E. Reehl, Thomas D. Fry, Richard J. Fischer, James E. Howe, Arthur W. Groft, and Robert H. Zercher.

Missing:  Ronald J. Fischer.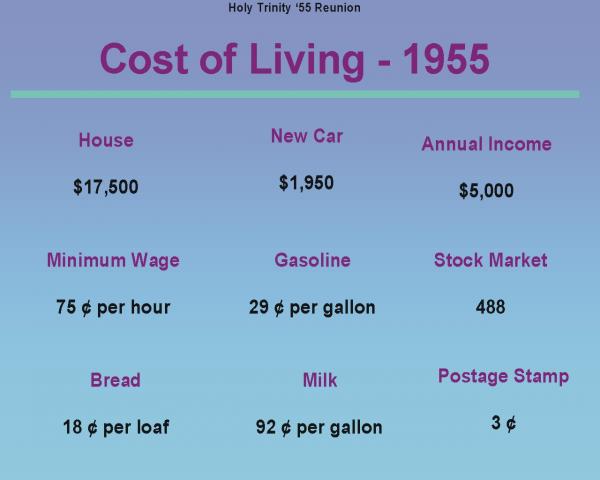 Ralph had been ill for some time, and declined to attend our 50th Reunion in 2005 because of his difficulties, including the need for oxygen.

He was always well-liked by all in the class.  Being the two shortest in our grade school class, he and I usually
led the processions of our class at church.  In high school, he liked to sit in the back of the school bus, so he could carry on in his impish ways with his clique! 

Because of the Tragesser connection (his maternal grandmother), he and I were third cousins, a fact of which he was likely unaware.

 Ralph is survived by one daughter, Beverly A. Costa, Columbia, granddaughter Nicole J. Costa, brother Dennis B. Brommer, married to Carolyn, Ohio, and sister Karen Ann Young, Millersville.                                                 

                  Comparative costs of living, when we were born, entered first grade, graduated eighth grade,

                                                        and at the time of the 50th Reunion: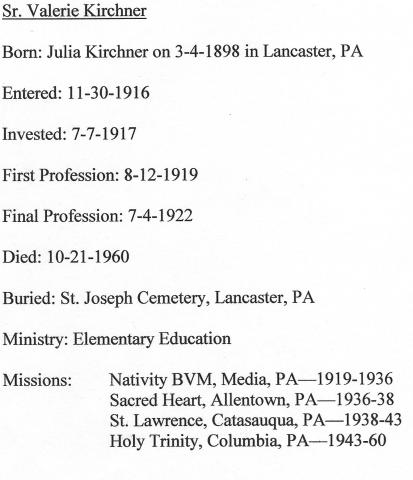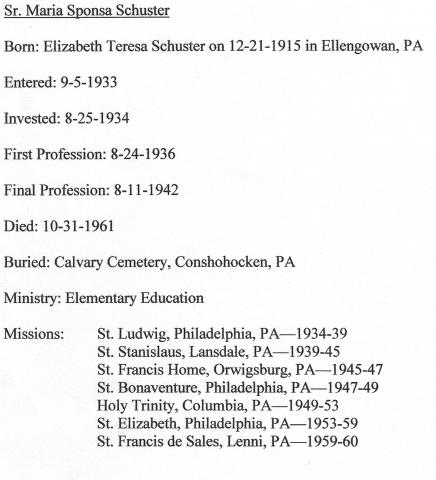 Sr. Xavier, O.S.F.

Born: Rosemary Matt,
  abt. 1920 in Lancaster, PA

Entered: 1940
First Profession; 1942
Died: 8-17-2011
Buried: Our Lady of Angels Cemetary,

Aston, PA
Ministry: Elementary Education
Missions:

Holy Trinity, Columbia, PA 1941-48
St. Joseph's Hospital, Lancaster, PA 1948-50
St. Mary's, York, PA 1950-51
Holy Trinity, Boston, MA 1951-61
Our Lady of the Assumption, Lynnfield, MA 1961-65
St. Joseph's, Lancaster 1965-68
Blessed Sacrament, Walpole, MA 1968-75
St. Joseph's Hospital, Lancaster, PA 1975-76
St. Mary of the Lakes, Medford, NJ 1976-82
Blessed Sacrament, Walpole, MA 1983-88
Our  Lady of the Angels Convent, Portiuncula, PA 1988-92
Blessed Sacrament, Walpole, MA 1993-2007
Sr. Regina Angelorum, O.S.F.

She had the difficult task of teaching 
a double class, ours and the third grade, 
in the same room.
Born: Mary Louise Mexal,

  abt.1922 in Philadelphia, PA
Entered: 1942
First Profession: 1944
Died: 2-13-2007
Ministry: Elementary and Secondary Education
Missions:
Blessed Sacrament, Trenton, NJ 1943-46
 Immaculate Conception, Trenton, NJ 1946-48
 Holy Trinity, Columbia, PA 1948-?
 Holy Angels, Trenton, NJ 1955-56
Little Flower High, Philadelphia, PA 1962-63
HallahanHigh, Philadelphia, PA 1963-66
All Saints, Philadelphia, PA 1966-67
St. Bonaventure, Philadelphia, PA 1972-75
Corpus Christi,Willingboro, NJ 1975-77
St. Maria Goretti High, Philadelphia, PA 1977-81
St. Hubert High, Philadelphia, PA 1981-84

St. Maria Goretti High, Philadelphia, PA 2003-07                                                                       

                 Sr. Mary Agnes

She was a novice, who reportedly had a "nervous breakdown" while teaching us, not finishing the year with us.  She

later left the convent altogether.

                    We Remember The Nine - In Memoriam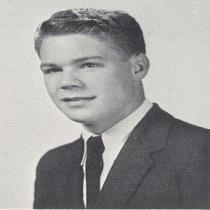 Janet M. "Sis" Segro Haverstick
                                                                     November 29, 1941 - September 17, 2014

Deceased: James J. Resch, Stephen  E, Reehl, Arthur W. Groft, Ralph J. Brommer,  Janet M. Segro, Susan M. Kaufhold, George  P. Mackey, Arthur J. Fasig, John J. Kennedy.
Lost to follow-up:  Irene Hoffman, Lawrence Schell, and Susan Wagner
                   Ralph J. Brommer, Jr.
                          November 15, 1941 - June 20, 2008
    Jim died from a heart attack on his 35th birthday.  He was the son of Francis Resch.
Jim graduated from Columbia High school in 1959.  The 1959 Susqehannock noted he was " 'Macbeth'...High Flyer...Curly; General Course; Track 4,5; Hi-Y 4,5".
He worked as a Ramp Agent for Allegheny Airlines.  He married Bonnie Lou Baxter, daughter of State Policeman George J. Baxter, who was later the Columbia Chief of Police.  James and Bonnie had 2 sons and a daughter, who still live in the Lancaster area.  Bonnie also passed away subsequently in 1989.
Jim and his family moved to the Cherry Hill area in Philadelphia, where he continued to work for Allegheny Airlines through the Philadelphia International Airport.  He was trying to arrange for a transfer back to the Lancaster Airport when he suffered the fatal heart attack. He was under the care of a cardiologist prior to that because he had some earlier symptoms.
He is also survived by his brother Robert, in Columbia, who kindly provided this information.
  Steve died from lung sarcoidosis, possibly related to his work at the Columbia Malleable, or from a stint in the National Guard when he served in the Arizona - New Mexico area, or some other unknown origin.  He graduated from Lancaster Catholic High School in 1959. He worked for electrical contractor Bill McDivett, and for Nikolaus Electric, both in Columbia, PA.
He married Donna Baker, whose family ran the Baker's Café on the Marietta Pike. They were married for abut 10 years; she lost a baby at 5 months' gestation.  They later became estranged.  His older sister Anna ( married to the late John E. Kuhn) cared for Steve during his rather long illness. Including the need for oxygen, special diabetic diet, etc.  Anna kindly provided this information.
          Stephen E. Reehl
November 11, 1941 - October 17, 1980
                  James J. Resch
                   May 31,1941 - May 31,1976
         Arthur W. Groft
 November 2, 1941 - January 9, 2005.
Arthur James "Skip" Fasig
   July 13, 1939 - December 1, 2017
 Arthur James "Skip" Fasig, 77, of Waynesboro, VA passed away on  Thursday, December 1, 2016 at Charlottesville Health and Rehab Center.  He was born July 13, 1939 in Columbia, Pennsylvania, son of the late Clayton and Margaret Schmidt Fasig.  In addition to his parents, he was preceded in death by two brothers and two sisters, and two spouses, Billie Jean Bashlor Fasig and Christine Henderson Fasig.  He was the last of his immediate family.
Skip died from liver cancer. He was the eldest member of our class, and the tallest (until "Kisser" Wickenheiser may have overtaken him, eventually!).  He teamed up with "Stink" Howe in shenanigans to give our nuns lots to deal with!
He is survived by his daughter Karen (Jeff) Miller of Denver, PA, and two grandsons, Ryan Miller of Leola, PA and Barry Taylor of Waynesboro, VA.
 Art battled lung cancer courageously for about 18 months, with a positive attitude to the very end. He graduated from Columbia High School in 1959.. 

The 1959 Susquehannock noted he was: "Quiet...Friendly Senior...Car Enthusiast; General Course; Intramurals".
  He was a first class machinist, by trade.  He married Marilyn Rettew, who kindly provided this information.  They had 3 sons, and 7 grandchildren at the time of his death.
He was always fixing things around the house, and liked watching the Food Channel; he almost never used a recipe in his very creative cooking.  Like his father, he always ahd a vegetable garden. He was an avid reader, especially Westerns, and one of his favorite authors was Louis L'Amour
.
Art was wont to walk through cemeteries, reading tombstones. He made his wife promise to put the day, month, and year of his birth and passing "so people know exactly how old you are when you die" (an old German tradition).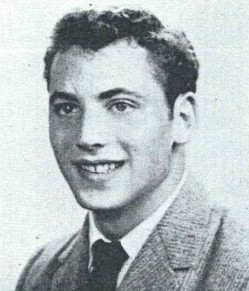 Susan Marie Kaufhold                        Deleon
      August 7, 1941 - April 28, 2017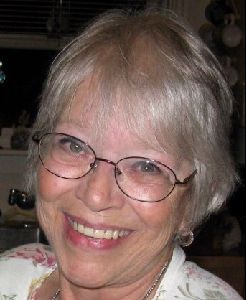 John Joseph Kennedy, III
           August 3, 1941 - November 11, 2020
George died at age 75 in North Port, Florida. He is buried in Sarasota National Cemetery.
He came from a family of nine children, having had 7 older sisters, and having one younger brother.  His parents were George P. Mackey, Sr. and Marie Ream Sumpman.  They lived initially on S. Front Street in Columbia, PA, near the end of Manor Street, and later moved to the 600 block of Manor Street.
George was mostly a quiet kind of guy, but friendly. He liked to fish. He took me fishing on the Susquehanna River on a cold, sunny day in the middle of February! From pictures on his memorial tribute, he still liked fishing, even by the Gulf of Mexico.
George was in the US Air Force, and it became a career for him. He had a son, two grandsons, and one granddaughter, and spent his retirement in close relationship with his grandchildren.  He was a Tampa Bay Rays fan. He played the guitar. 
He was able to make it to our 60th HT Reunion
             George Paul Mackey, Jr.
                    March 20, 1942 - July 23, 2017
From  Lancaster Online:
John J. "Jack" Kennedy III, 79, of Philadelphia, formerly of Columbia, passed away on Tuesday, November 11, 2020 at ManorCare. Born in Columbia, he was the son of the late John J. Jr. and Loretta Horn Kennedy.
Jack graduated from Lancaster Catholic High School in 1959 and earned degrees in Philosophy from Villanova and Temple Universities. He was a self-employed mover who owned and operated the Kennedy Moving Company in Philadelphia. Jack obtained the rank of Eagle Scout when he was younger and was a member of the Philadelphia Democratic Committee.
He is survived by his brothers, Gary M. husband of Carol Kennedy; George F. husband of Georgia Kennedy; Hubert "Hubie" Kennedy; sisters, Patricia A. Kennedy; Mary E. wife of Harry Wagner, and three generations of nieces and nephews. He was preceded in death by his brothers Jimmy and Robert J. Kennedy.
Jack broke his leg sometime when he was in 6th or 7th grade, and, while healing at home, began to read the Encyclopedia. He didn't make it past the first volume before he healed. He was a fellow stamp collector, and was in our stamp club, but he left to start his own short-lived stamp club, because there was a girl in the class he tried to get to join his club! She didn't join, by the way.
His father was fond of performing card tricks. John and his brothers had a ping pong table in the basement where we spent many hours.